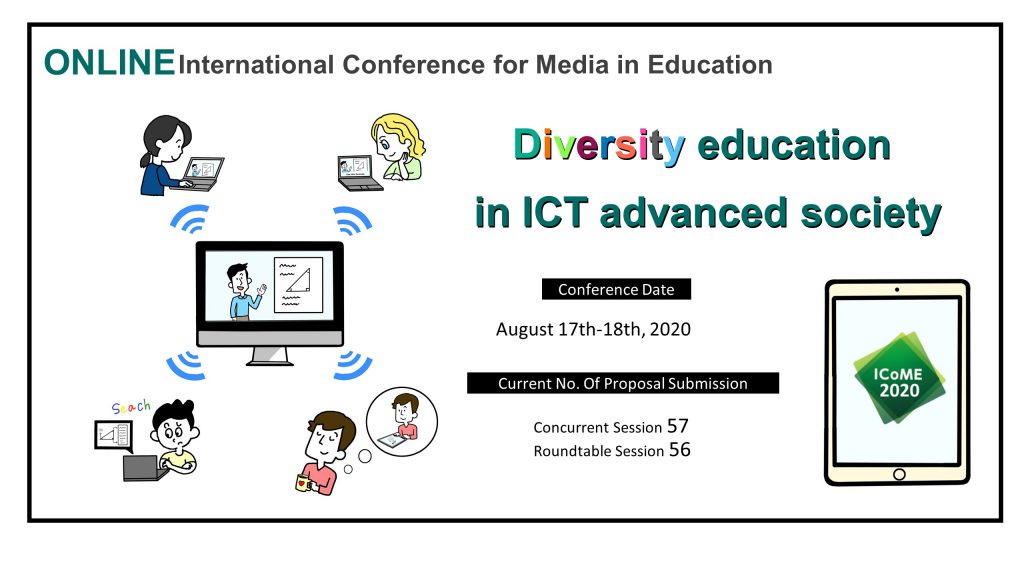 You are cordially invited to ICoME 2020 (International Conference for Media in Education). ICoME 2020 occurs as the 18th joint conference supported by the four prominent academic societies specialized in Media use in Education: Japan Association for Educational Media Study (JAEMS), the Korean Association for Educational Information and Media (KAEIM), China Association for Educational Technology (CAET) and Teaching, Colleges and Community (TCC).
During ICoME 2020, we will explore the ways to strengthen international connections under the theme of "Diversity Education in ICT advanced society"
Diversity in Education has appeared as an increasingly pressing topic since ICT was adopted at schools. The classrooms face the world through the Internet, and students can now readily connect to people throughout the world and thus interact more closely with people from different cultures.
In addition, ICT allows students to become designers, creators, journalists, community developers, programmers, and data analysts. They are thus able to extend their diverse talents utilizing a variety of ICT tools. We, as educators, can facilitate students' realization of their talents through different kinds of ICT.
Amidst these developments, it is essential for students to have an understanding and appreciation for other cultures. To make the classroom more culturally diverse, we need to cultivate awareness about other learners, peers and community members. Through collective efforts, we need to enable greater interaction with members of other cultures.
Therefore, we would like to invite researchers and educators who study the diversity of ICT enhanced education from around the world. We especially look forward to having a deep discussion and creating more awareness about the possibility of ICT to enhance diversity in Education in Japan!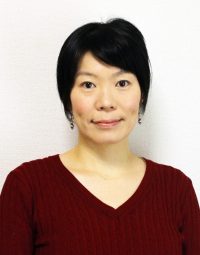 Makiko, KISHI Ph.D.
The Chair of ICoME 2020 Executive Committee
Associate Professor, Meiji University, JAPAN
---
Theme
Diversity education in ICT advanced society
Date
August, 17th – 19th, 2020.
August, 17th & 18th, 2020.
Venue
Konan University (Okamoto campus), Kobe, JAPAN
ICoME2020 will shift to an online conference
---
Program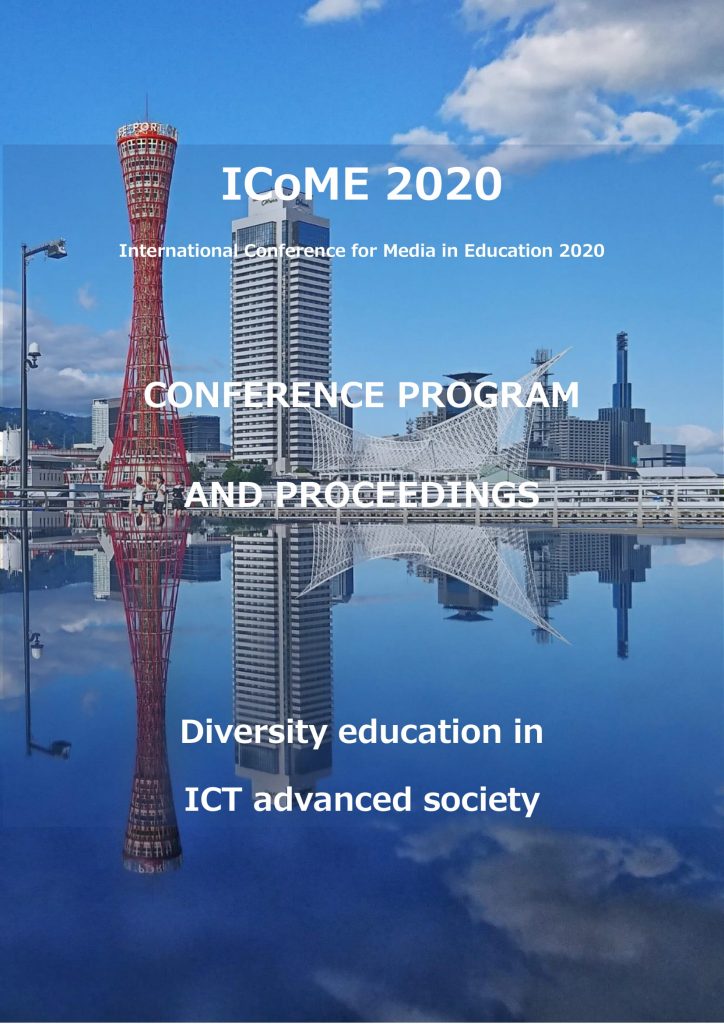 Final Version of Program & Proceedings
Final version of the Program & Proceedings can be downloaded
August 17th, Mon.
Opening Ceremony
10:00-10:20
Keynote 1
10:30-11:30
Lunch Break
Tutorial for Roundtable presenter
11:30-13:00
Opening Talk of Roundtable Session
13:00-13:15
Roundtable Session 1
13:30-15:00
Break
15:00-15:15
Roundtable Session 2
15:15-16:45
Break
16:45-17:15
Closing Talk of Roundtable Session
17:15-17:45
Online Student Night out (NOMIKAI Session)        
17:45-19:00
August 18th, Tue.
Casual Cafe Talk
10:00-11:00
Concurrent Session 1
11:30-13:00
Lunch Break
13:00-14:00
Concurrent Session 2
14:00-15:30
Keynote 2
15:30-16:30
Break
16:30-17:00
Closing Ceremony (Representative Talk,
Young Scholar Awards, Information on ICoME2021, Closing Remarks)
17:00-18:00
 
---
Keynote Speakers
Keynote 1: Panel Discussion "Experiential Learning Supports Diversity Education", 10:30-11:30, August 17, 2020
Coordinator: Makoto KAGETO, Nihon Fukushi University, JAPAN
We welcomed three people who have challenged this kind of research in the fields of international cooperation and advanced technology.
We would like to share their talks and latest efforts charting future directions.
1. New communication methods.
What kind of new skills should students acquire when the figures of information transmission change? How to utilize online or face-to-face meetings.
2. Comparison of "School Knowledge", learned only at school, and "Active Knowledge", gained through experiential learning.
3. How can we stimulate collaboration to activity facing diversity of participants?
Panelists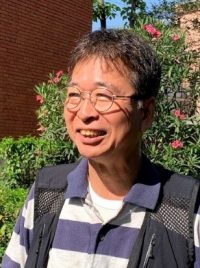 Kenichi KUBOTA
Kansai University, JAPAN
Professor emeritus
Inter-University Collaborative Project at Teacher Training College in Cambodia
I would like to introduce a unique international project in which students from three universities collaboratively participated for improving instructional methods at the teacher training college in Cambodia. The unique features are the followings:
(1) Diversity ・・・The universities are in three big cities in Japan. Students have different majors and ages.
(2) Experiential・・・The project is action research oriented. The students experience more than one cycle on intervention.
(3) Communication・・・Hybrid communication by face-to-face and the Internet is necessarily to achieve their mission.
(4) Social emotional skills・・・The students develop social emotional skills by working in the project to overcome hindrances. Agency is the key to nurture the skills.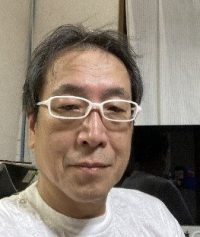 Go ASAKAWA
Ritsumeikan Junior & Senior High School, JAPAN
International Coordinator
To establish a new style of an international program by "RitsMentor Online Discussion Event 2020"
Focus : RitMentor Online Discussion Event 2020
Objective : To open up this closed world to establish a new relationship with students(people) living in different countries and regions with whom to share common ideas through a fun and exciting event including five meetings on Sundays.
I would like to introduce a new approach through ICT to open up this closed situation under coronavirus pandemics and to restart a new type of international students' exchange program, by which we can not only improve their English and ICT skills more than that of a regular meeting in person, but could expand their potential and possibilities by inspiring their imagination and inquiring minds, to find another possibilities for the future.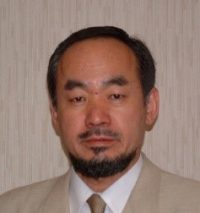 Makoto KAGETO
Nihon Fukushi University, JAPAN
Affiliate Professor
EDU-Port Project "ICT skill seminar" via advanced Technology
EDU-Port Japan is the Education Ministry Project, public-private initiative to disseminate Japanese-style education overseas. From 2016 we have been involved in this project.
This year, our proposal was approved as the pilot project in Cambodia. Its keywords are " ICT education with effective media utilization".
In 2020. we are devoted to "Development of "Home-learning Contents" in Cambodia with two universities implementing SDGs-4 and Learner-Centered ICT education"
Our consortium is focusing on enhancing English learning methods at the Phnom Penh Teacher Education College and Siem Reap Teacher Training College. We show how ICT can be used for group-work and interactions through hands-on training sessions. We also expect Japanese schools will join this project under the banner of SDGs4 by sharing some online contents.
---
Keynote 2, 15:30-16:30, August 18, 2020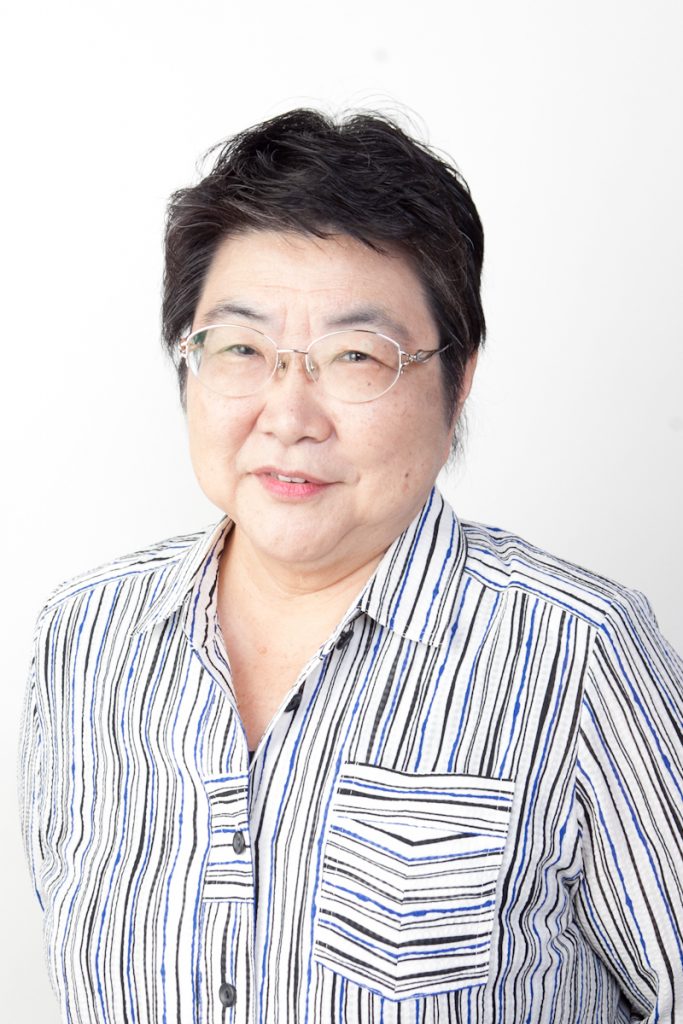 Judy NOGUCHI
Professor emerita, Kobe Gakuin University, JAPAN
The search for new normals in education from 2020: Focus on language for specific purposes
The year 2020 will mark a significant change in human history in the aftermath of the global COVID-19 pandemic—this might be a blessing in disguise. In Japan, as we try to control the virus and resume classroom schooling with cautions about keeping social distance, we realize that we can never return to what we had long thought of as "normal." After a three-month shutdown of schools and universities in Japan and the shift to online classes for the new academic year (which should have begun in April), we need to think about what kind of education we should offer to students. What will be the "new normals"? It is time for a paradigm shift from a 20th century education system that basically tried to fit students into a set learning program rather than tailor the program to the student. One key to helping us address the diverse needs of diverse students is technology. As an example of how this might be done, I will focus on English language education for science and technology professionals in a foreign language environment. Specific language and communication skills are crucial for enabling participation in the knowledge construction of a professional global discourse community. Suggestions will be offered as to how this could be done.
---
Representative Talk Speakers (Closing Remarks)
Japan Association for Educational Media Study (JAEMS)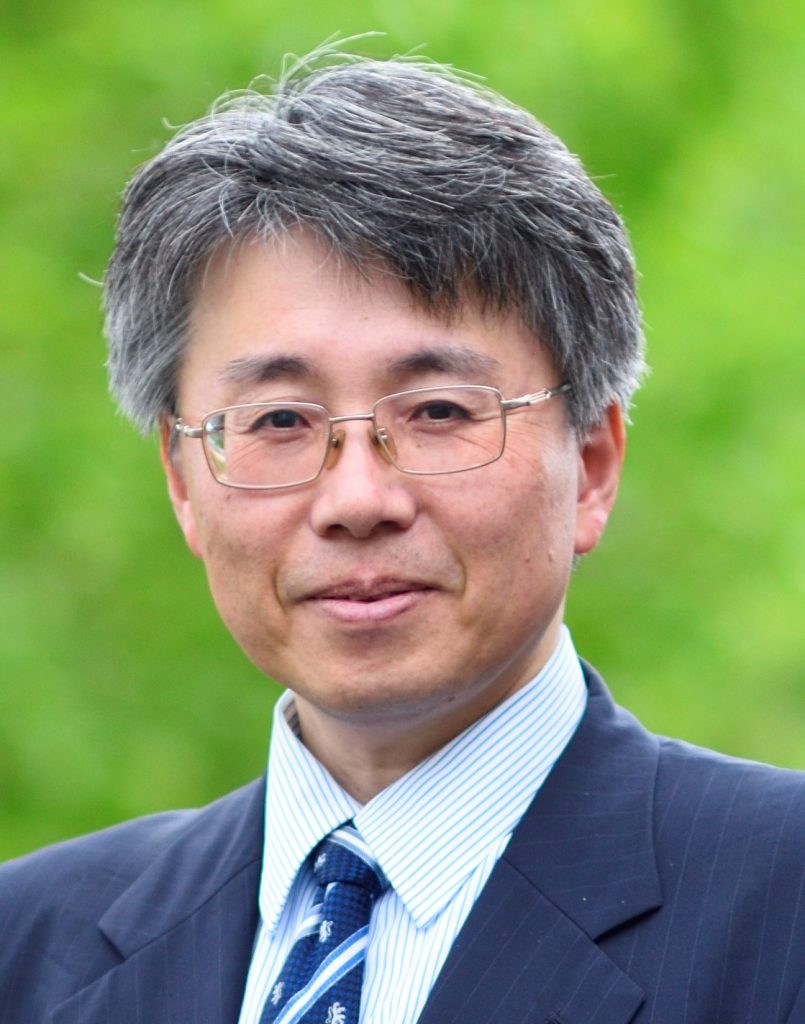 Wakio OYANAGI
Professor, Kansai University, JAPAN

President of Japan Association for Educational Media Study (JAEMS)
The Korean Association for Educational Information and Media (KAEIM)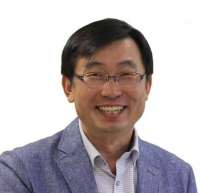 Wooyong Eom
Professor, Keimyung University, SOUTH KOREA

President of Korean Association for Educational Information and Media (KAEIM)
China Association for Educational Technology (CAET)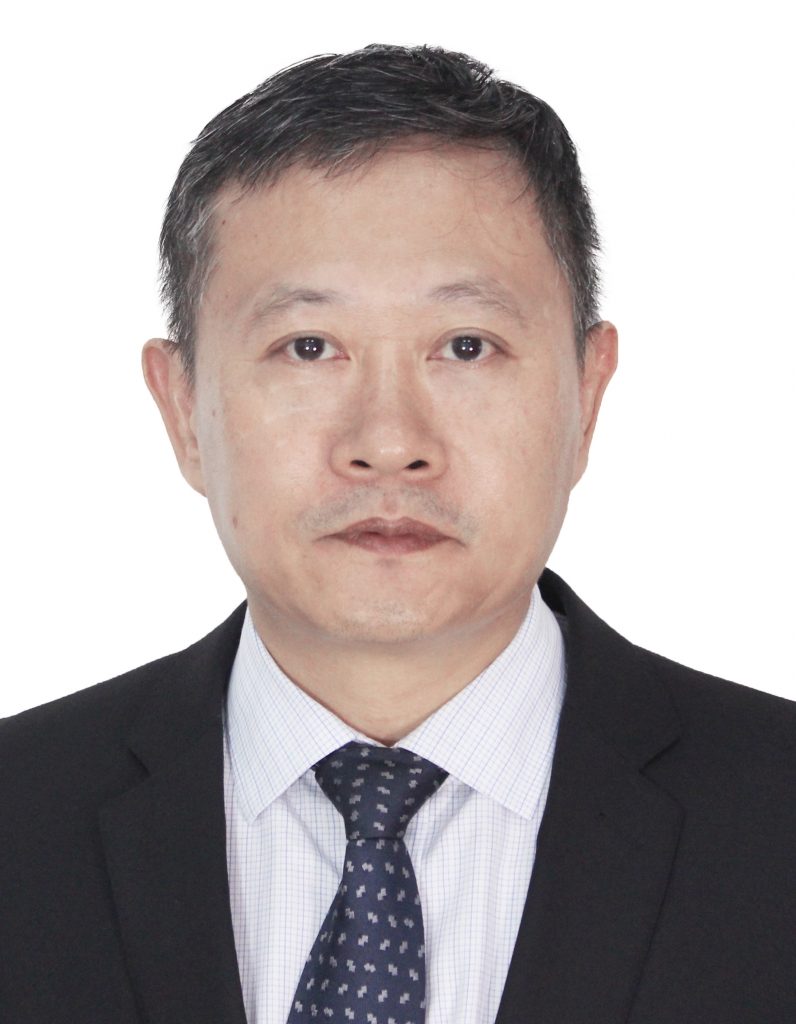 Jianhua ZHAO
Professor, Southern University of Science and Technology, CHINA

Representative of China Association for Educational Technology (CAET)
Teaching, Colleges and Community (TCC)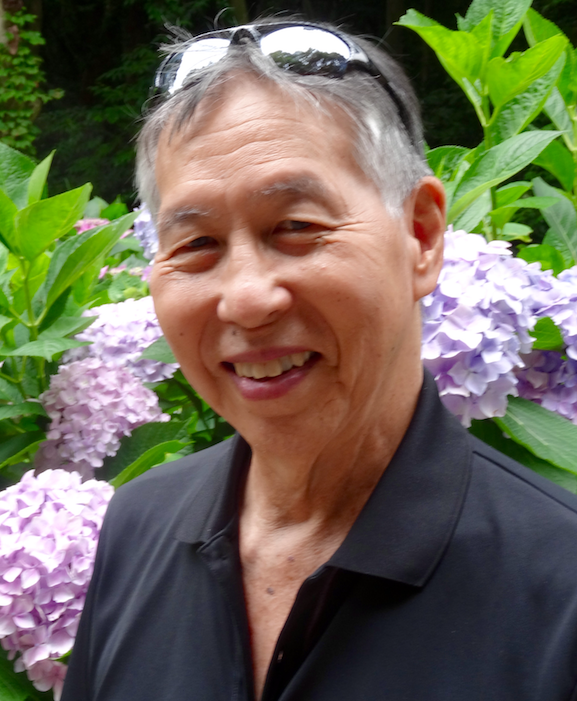 Bert KIMURA
Professor emerita, University of Hawai'i at Manoa, USA

Co-Chair of Teaching, Colleges and Community (TCC)
---
Casual Café Talk
In the morning before the serious sessions, why don't we have a little break with your global peers while having tea or coffee?

We extend a special invitation to all participants to join in the informal talk session scheduled on the morning of the 18th (10:00 – 11:00). We would like to set up a time slot for casual talks so that we can frankly discuss our recent experiences related to COVID 19. This virtual cafe can be a great place for getting to know someone with the same view or difficulty and /or an opportunity for those who are looking for international connections.

The café has four separate rooms with a coordinator according to your interests. You may choose one, or you can jump around to join in the other discussions. All you need is to bring your beverages and a topic to share with your peers!
Topics and Coordinators
The present educational conditions under the Coronavirus pandemic in your countries
Coordinator: Mr. Gibran Garcia, Ph.D. (Mexico)
New research seeds for in/post coronavirus pandemic
Coordinator: Ms. Shari Yamamoto (U.S.A.)
Business opportunities in and after the Coronavirus pandemic
Coordinator: Ms. Jenni Fajardo (Philippines) & Ms. Lan Yan (China)
Changes in the situation for research publications amidst the Coronavirus pandemic
Coordinator: Mr. Ken Morimoto (Japan)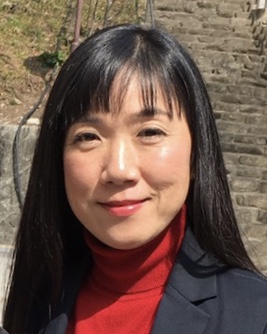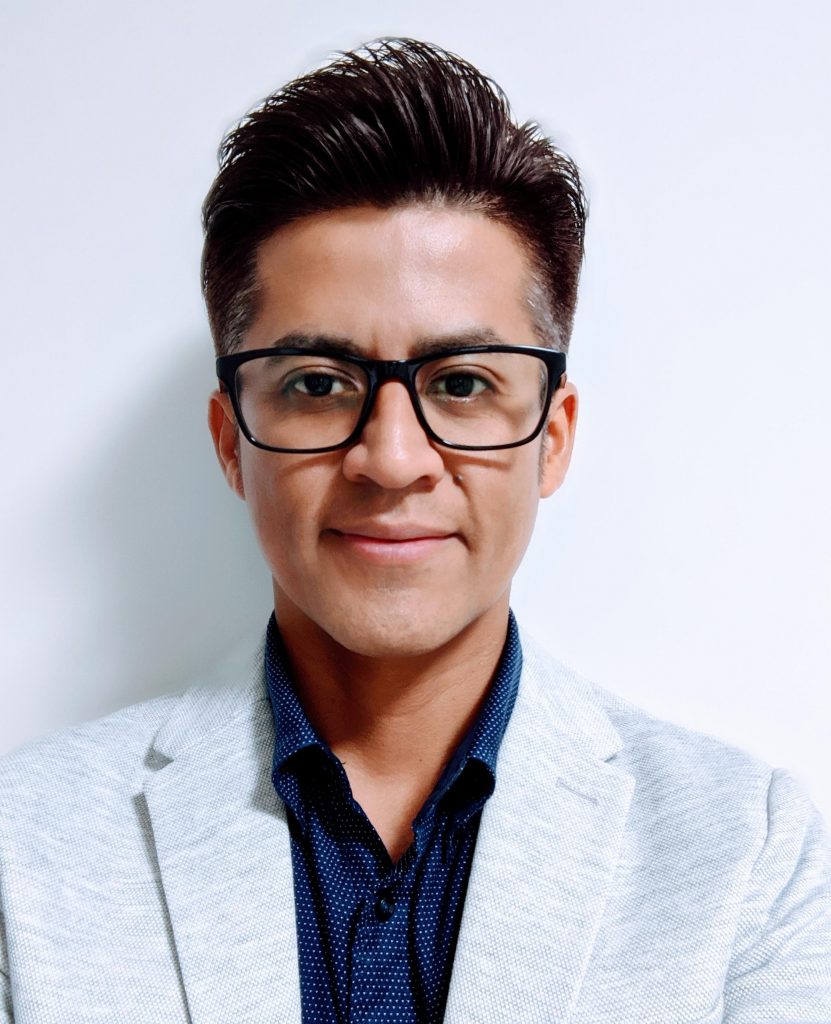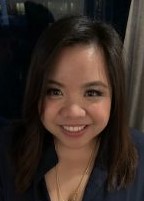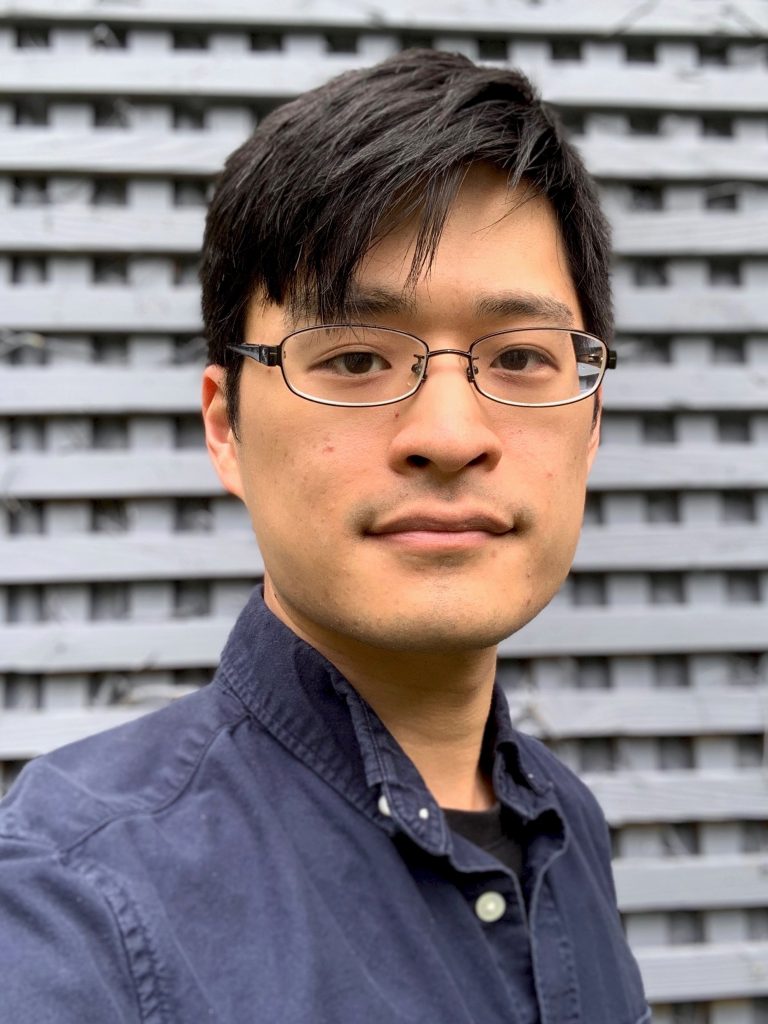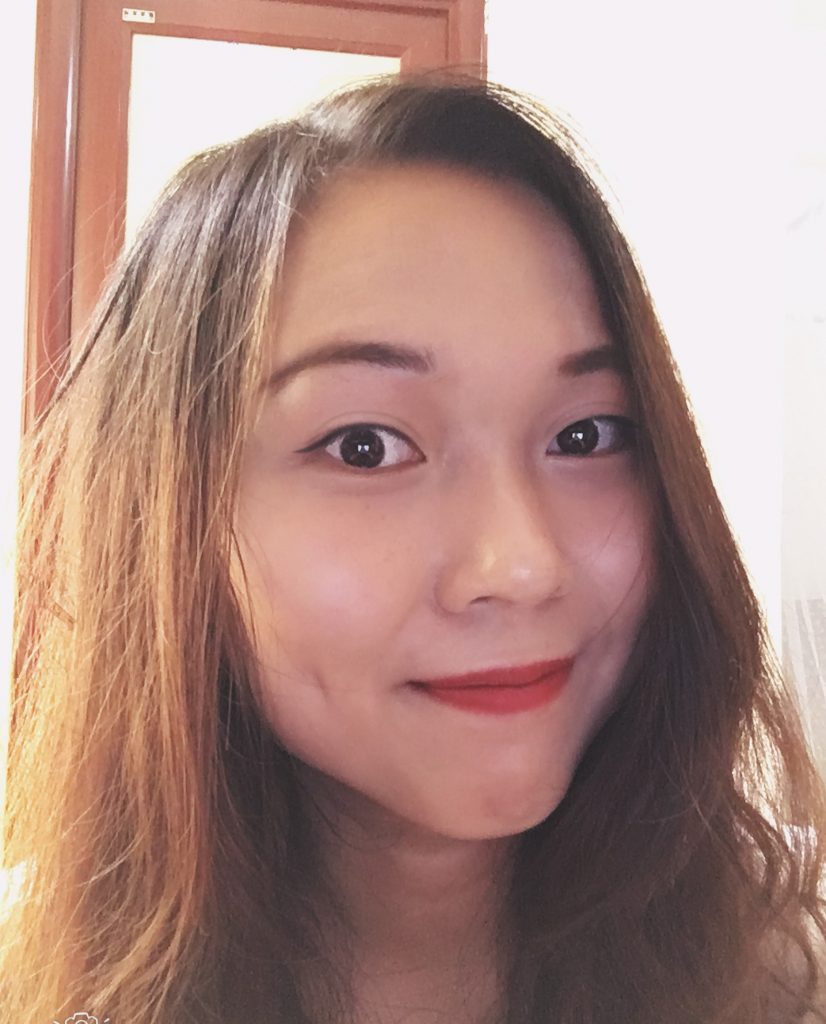 | Time | Activity |
| --- | --- |
| 10:00 – 10:20 | Introduction and Getting to Know Each Other |
| 10:20 – 10:50 | Tea and Informal talk |
| 10:50 – 11:00 | Summary and Exchanging Contacts |
---
Presentation
Concurrent Session
The concurrent Session is a session for formal presentations. Presenters should share specific research outcomes, developments or applications. ICoME recommends this session for the college faculties, PhD students or practitioners.

Proposal: Approximately 400 words
Presentation Time: 19 minutes including 5 minutes of Q&A
Proceedings length: 4-8 pages
Roundtable Session
The Roundtable Session is a session for casual presentations. Presenters can express not only specific research outcomes but also research interests, plans or even reviews of the previous studies. ICoME recommends this session for Master students and undergraduates. Approximately 20% of Round Table speakers will be awarded the "Young Scholar Award".
Proposal: Not required (Presentation Title only)
Presentation Time: 14 minutes including 3 minutes of Q&A
Proceedings length: Presentation Abstract should be submitted (Approximately 400 words, 1 or 2-4 pages)
---
Presenter's Guide
For Concurrent Session Presenters
Each presentation should last 19 minutes including 5-minutes of Q and A.
Presentations and discussions must be held in English.
A chair of the session will be assigned from a presenter by the ICoME executive committee. A chair should handle the discussion after each presentation and keep the time of the session. A chair will be informed via e-mail before organizing the program.
Zoom will be used for presentation. Meeting ID and password will be issued and informed after paper submission via e-mail.
Equipment for presentation must be obtained by each presenter including the internet connection.
For Roundtable Session Presenters
Each presentation is 14 minutes including 3-minutes of Q and A.
All presenters are recommended joining the Opening and Closing Talk of Roundtable Session.
Presentations and discussions must be held in English.
Presenters will be provided a tutorial session before the session for checking the operation of Zoom, a video meeting system that ICoME will use.
Zoom will be used for presentation. Meeting ID and passwords will be issued after the abstract submission via e-mail.
Equipment for the presentation must be prepared by each presenter including the internet connection.
---
Message from the host university
Welcome to ICoME2020!

We are excited to host ICoME 2020 at Konan University in Kobe, Japan. Established in 1951, Konan University is a private university that serves just over 9,000 students. The University has eight faculties, fourteen undergraduate courses in addition to various graduate programs and a professional school of law. Taking advantage of being a medium-sized university, Konan places emphasis on learning support and extracurricular activities.
ICoME 2020 is scheduled to be held in Kobe, a major city in western Japan located in Hyogo prefecture which neighbors Osaka and Kyoto. A popular tourist destination with a rich history of multicultural influences also known as economic and cultural centers in the Kansai region, Kobe is the perfect city as the backdrop for the theme of this year's ICoME 2020 "Diversity education in ICT advanced society."
We warmly welcome you to Konan in Kobe to discuss diversity education in ICT and its impact on current trends, contributions, and future implications for a better tomorrow.
We are looking forward to seeing you in Kobe!
Mihoko CHIBA, Ph.D.
The Co-Chair of ICoME 2020 Executive Committee & The Chair of ICoME 2020 Local Organizing Committee
Lecturer, Konan University, JAPAN
Konan University
Konan University is located on the eastern edge of Kobe City in Okamoto, a well-known residential area between Osaka and Kobe.
Website: https://www.konan-u.ac.jp/english/
This video is an introduction to Konan University from a student perspective. It was created by a group of student volunteers from Konan University. Students collaborated online to make this original video from concept to production while balancing the demands of distance learning and deadlines. Due to campus closures, students used available resources and their creativity to introduce the highlights of Konan University to the participants of ICoME2020. Students from Konan University send their best wishes from Kobe to all ICoME2020 participants.
Photo Gallery